Graffiti Sorcerer T-shirt
Brand: Blindigo
Product Code: 3099604-na273-s
Availability:In stock
Size chart
If the product have several variations look for sizing charts within the product pictures. We provide sizing chart and size descriptions for every product separately. It's strongly recommend to take your measurements and follow the size chart so you can know for sure!
The Ministry of Magic is always very strict! Identity of Sorcerers must stay secret but they may reveal themselves to each other by wearing the colors of purple and green, often in combination. Show your true identity with this Graffiti Sorcerer T-Shirt !
Size Chart - Unisex Sizing:
These t-shirts are a unisex slim fit! Ladies order their size as normal; if you like your  t-shirts more loose fit, order a size up than your normal. 
For Guys, again these are a slim fit  t-shirt so if you like your  t-shirt more loose fit order a size up than your normal size. 
We recommend taking your measurements and following the size chart so you know for sure!
Gender: Unisex
Item Type: T-Shirt
Sleeve Length: Short
Collar: O-Neck
Closure Type: None
Thickness: Standard
Style: Casual
Clothing Length: Regular
Sleeve Style: Regular
Material: Polyester,Spandex
Detachable Part: None
Pattern Type: Print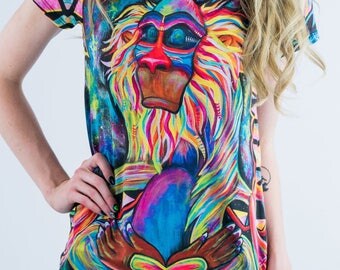 Due the high demand of this product, please allow 2-3 weeks to delivery.